Nurturing rapport + going the extra mile are top priorities for Rachel McCord Creative.
Whether she's hanging from a moving trolley car or sprinting after a sassy toddler to get the perfect shot - the heart of the effort is to leave her clients feeling seen + encouraged on film and off.
Every last detail of styling, on-camera direction, giggle-filled shoots + fostering inviting spaces to create with her clients so they can shine - that's what makes all the difference in her book.
So, dig into the generous words of others who have gone before you!
"Rachel is an amazing photographer who is incredibly fun and easy to work with. She made my last-minute need for portrait photos a quick and painless process. I was impressed by her quick turnaround of the edited photos-I received them within four days of the shoot and absolutely loved how they all turned out!
Rachel has a spectacular eye for photography and the wonderful ability to bring out her client's personality in every photo. I look forward to working with her again and would definitely recommend her for your future photo needs!"
- Angeles O.
Rachel does a phenomenal job capturing authentic moments and real emotion while putting everyone at ease in front of the camera! Her style is fun and natural, and every shoot she's done for my family has turned out beautifully. I've also hired her for event photography and she went the extra mile to cover every moment and detail and made sure we had the shots we needed. Professionalism, an eye for detail, and quick turnaround are standard for her and she's very collaborative and easy to work with. I highly recommend her for any personal or professional photo needs you have!
- Lauren + Brandon F.
"We were lucky enough to get to work with Rachel for a photo shoot when our first child was born last year. After looking at her website I knew her photos captured the sentiment that I wanted in the pictures of our son.
We had a wonderful experience, before during and after working with her. Before our meeting, Rachel helped with me with suggestions and was not only on time and professional during the shoot, but relaxed enough to get relaxed, natural shots of us. After the shoot she sent the photos within a very reasonable amount of time, which I appreciated since I was dying to show them off!
I would recommend Rachel McCord Creative to any of my friends and look forward to having her do another shoot with us this fall." - Molly C.
(Note from Rachel - Molly has since booked a shoot every year as her boys & family continue to grow!)
Rachel does an excellent job at capturing the simple moments in the most beautiful way. I will cherish the photos she took of my family forever and we had a fun experience doing it—she's easy going and extremely hard working. I would absolutely recommend her to anyone looking for a photographer!
- Hannah + Lars J.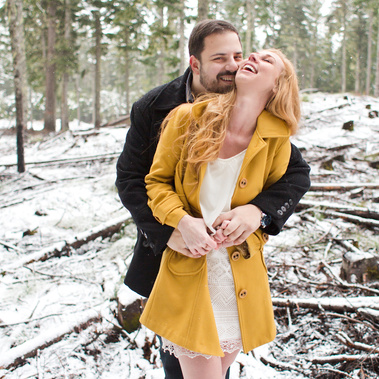 "Where do I even begin!? Rachel McCord Creative was incredible to work with on our proposal as well as our engagement shoot. I brought the idea to Rachel of doing the shoot in the snow (a dream I've had for a longtime) and this girl ran with it! We had a very tight window of time to shoot and she was a champ through it all, waking up early and driving out of the way to find the perfect location.

In the end we were speechless over the incredible images she captured. Rachel made us feel comfortable every step of the way and yet pushed us to create amazing shots. She has a rare gift of capturing light and depth in the same moment and we are so blessed with the end result. I would refer this darling to anyone I know and couldn't be happier with all that she did for us!"
- Nicole + Josh C.
"Rachel McCord is someone I would hire again. I contacted her because I needed a couple new professional head shots for my LinkedIn, and she definitely delivered. She was prompt during the shoot, and emailed me the edited photos in less than a week.
The best part of the whole shoot was that she was able to bring me out of my shell and let the camera showcase my personality well. I definitely would not have been able to showcase that with a simple point and shoot selfie myself. It takes a true professional to be able to bring that out of someone through the lens and Rachel is that person."
- Monica T.
"I hired Rachel for a boudoir shoot prior to my wedding + let me tell you, I am so glad I did! I am a bit 'shy' when it comes to things like skipping around in my undergarments, especially when photos are involved, but with Rachel she made it so incredibly comfortable and even fun! She had me giggling and actually enjoying the experience - which reflected in my photos.

Not only was she encouraging while also giving me directions, she also worked PAST her contracted time, found us an AMAZING secluded, private, and beautiful place - and on top of that got the photos back to me in less than a week when she knew I was strapped for time!
She is amazing, and I plan to use her again. Ladies - if you are even THINKING of doing a boudoir shoot, you would be silly to go with anyone else!"
- Kelsey-Jo M.
ENGAGEMENT | PRODUCT | CHILD PORTRAITS
"Rachel shot my engagement photos and I couldn't be more pleased with her work. She took time to discuss what we wanted and made sure we were comfortable, but applied her creative, expert eye to the shoot, and edited images were promptly sent to me.
Because of that experience, I hired Rachel to shoot product images for my Etsy shop. The pictures were again, what I wanted but better than I imagined. Everything sold!
I also had her photograph my newborn daughter, and again I was so happy with the results! She is professional, fun, interactive, and makes it easy to be in front of a camera."
- Shannon B.